Where Theres A Will Theres A Way Short Essay For Kids
These days every week brings new tragedies, as did this week with the victims in Penn State, storms in Alaska, kidnap of the Washington National's catcher, financial chaos in Italy, volatile stock market -- and oh so much more. No wonder our energy can get so zapped that we're too tired to tackle our own meaningful messes. It's easier to complain, get frustrated and then lose the courage to turn around to face life's most painful challenges. Problem is there's a cost to this behavior.
Can you count on yourself to do what you need to do?
Can others count on you to do what they need you to do?
If your answer to either one of these questions is "No" (or even "Yes and No"), then you're making these times even tougher for yourself and those who depend on you. Now more than ever we must stay aware of whether we're living our lives as a victim of circumstances or a master of our own destiny.
I've sure been stuck lately, letting myself settle for the reasons I can't do something, instead of just getting on with what I know I need to do -- like writing my weekly HuffPost article. I mean really, you wouldn't believe how busy I've been and how much has been going on in my life -- and the lives of those around me. So I woke up this morning remembering this old English proverb and said today's the day. So, here I am writing after 2 months!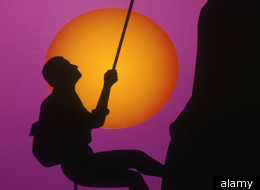 My Mom often reminded us that "Where there's a will, there's a way," starting when we had first learned to say, "I can't." We rarely got away with it -- and when it comes to the big stuff we're avoiding, we shouldn't be any easier on ourselves than she was on us. The cost is too great, first to ourselves. When we don't keep our promises to exercise, meditate, pray, get the overdue project done, write the thank-you note or call Mom, we lose confidence and respect for ourselves. But even more painful is the cost to others when we don't keep our promises with them.
Imagine the cost to:
The man who's not doing the tough stuff to keep his business going, even though his family is depending on him.
The mother who is so exhausted and stressed that she can't find time to exercise and meditate, and then takes it out on the kids.
The college student who's started skipping classes because he's thinking he "won't be able to get a job anyway".
The quarterback who loses confidence in the 4th quarter and stops giving it his all.
What would happen to each of these folks if they shifted their mindset to, "where there's a will there's a way"?
Here are some who have done so, many times.
Former basketball Magic Johnson, who 20 years ago refused to let his HIV diagnosis become his death sentence and who became an inspiring humanitarian.
Steve Jobs, who failed way more times than most, who survived cancer long enough to make Apple a sustainable dream, and changed our world for all of us.
Louie Zamparini, 94, Olympic hero, WWII bombardier, plane crash survivor, tortured POW and survivor of post-war turmoil who "has not been angry a single day in the last 40 years." Laura Hillebrand's bestseller "Unbroken" is based on his life.
Joy Johnson, the defending 80-and-over champion in the New York City Marathon. She's come in first five out of the 11 times she's run and second on two other NYC race days.
I'm sure there are many times in your life when you found the strength to do things that you thought were too difficult or impossible, right? Take a moment to remember just one time and then another minute to answer the following quick questions:
Which of your unmet challenges has the highest cost for your loved ones and for you? Example: My failure to stay in touch with my family.
What's the outcome you want? Example: A sense of well-being that comes from their knowing that I care about them and they can count on me.
What's the next step? Example: Call my Dad today.
After you've talked with him, ask yourself, what's the next step?
May sound simple, but I guarantee that if you take this discipline seriously, you'll be back in the driver's seat of your own life -- and an inspiration to others. Where there's a will, there's a way.
Here's the inspiration for my article -- a message from 2-year-old Ryan:
Please leave a comment or question here. Let us know how you're doing. By doing so you'll inspire the rest of us. Or you can email me at jinny@bestyearyet.com.
Follow Jinny Ditzler on Twitter: www.twitter.com/Jinny_S_Ditzler
The author captured the story of Loyabi, in Chhaor Union Parishad. This is her story of how she provided her family with access to better
sanitation and improved their futures.

"I will teach my children how to read and write regardless of my difficulties in doing so."

My name is Loyabi and I come from a very poor family of Mahadanga village in Chhaor Union Parishad. I was married to Abul Hassan, a man from my own village, at the age of 15. For several years our poverty did not prevent us from being happy. We were blessed with two daughters and two sons. However, when my husband was diagnosed with gallstones, I found I had to raise Taka 50,000/- ($630) for his operation.

We had no land of our own and lived on common land. I was able to collect some money by asking for assistance in different villages. I worked as a mid-wife for humans as well as cattle, bathed dead bodies before their burial and somehow put together the required amount of money to get my husband's operation done.
Hygiene and modesty at stake: The lack of any kind of toilet facility within the house was proving very vexing for us, especially my elder daughter Mariam who studies in Class IX. She would get very embarrassed at having to go into the fields or behind bushes to answer nature's call. There is always a fear of someone being able to see you.

With both hygiene and modesty at stake, she would often wish she did not need to go to the toilet after returning from school. Mariam keenly desired that we had our own private sanitary facility within the house. She spoke in glowing terms of the cleanliness of her school's toilet where she claimed you could even dine!

One day Mariam returned from school — Mahadanga Uchcho Vidyalaya — and informed me excitedly that a sanitation committee has been organized in the village to help the ultra-poor and the impoverished to build hygienic water systems like protected hand pumps and sanitary toilets in their homes. This was part of initiative of Union Parishad with support from an NGO.

Fortune favors the brave: Upon enquiry I found that the committee's chairman is Mr. Mohammad Kausar. I met him to request that a hygienic toilet be installed in my home. He told me that I would need to deposit Taka 692 ($9) with the Union Parishad after which I would be sanctioned a sanitary system in the house. Accordingly, I filed a petition and deposited the requisite money which I had saved from my earnings from deliveries.

There were many job's comforters who assured me that my money would be swindled and that nothing would come of my efforts. However, work on the sanitary system began after 10 days with workers first digging the pit and other materials arriving at my house. The construction of a simple latrine was completed in four days. However, the children felt that it would be better if it was a ceramic squatting pan instead of plastic pan. It was a serious concern as to where I would be able to find that much money.

As luck would have it, I was called for a delivery that very day. After the delivery, the family wanted to give me an expensive saree. I requested that they give me money instead. They gave me Taka 500/- ($6.30) cheerfully. I added Taka 100/- ($1.26) to that and brought home a ceramic squatting pan. I asked the workers to utilize the remaining rubble and concrete to make the slab for the pan. They did so happily after getting the sanction for it from the contractor Janab Moti-ur-Rahman.


All's well that ends well: Now, my daughter Mariam cleans the toilet regularly and keeps it sparkling. The new toilet in my house has become the talking point of my neighbors who enviously wish they too had a similar facility. Some of them have taken steps to install a sanitary system in their households too.

I could not study due to the poverty of my family. This lack of training often poses challenges for me during complications in deliveries. I am unable to get any kind of training to make my midwifery more scientific and safer. I am determined that my children be properly educated, no matter what the difficulties.

Author's Note: This might have been a small step, but it was a step in the right direction in ensuring a hygienic latrine for every household in Bangladesh, reinforcing the principle of peer learning. The World Bank Water and Sanitation Program with other partners support an initiative led by Union Parishads and launched by the Local Government Division (LGD) of Government of Bangladesh (GoB), called the Horizontal Learning Program. It aims at inspiring everyone to share their good practices with others to build development. In Loyabi's case, one lady's success inspired her peers to install hygienic sanitary systems in their households. It is a classic case of people adding their own resources to those of projects which can ensure the sustainability of these projects in the long run.