Essay View From My Window
Imagine looking through a window at any environment that is particularly significant to you. Reflect on the scene, paying close attention to the relation between what you are seeing and why it is meaningful to you. Please limit your statement to 300 words.

When I look through a window, I see life. I see children playing on a green field and having a merry time. I see the cheerfulness and the laughs on their faces. I see old people sitting under a tree reminiscing on the good old days when they were once young. I see birds flying over the green, crisp land looking for food to bring home to their babies. I see squirrels running up and down the trees trying to search for nuts. Looking through a window I see life. The sun comes upon the horizon and rooster makes its presence for the day to begin. Looking through a window I see opportunity. I see all the things that I can become in life if I put my mind to it. I see a business man who will one day become the head of a big corporation and be like Donald Trump and say "YOU'RE FIRED!" Sometimes when I look through a window I see darkness. The feeling of not knowing where you are going or what you are getting into. I could be walking in circles instead of going forward or running to fast and falling off the edge of a cliff. But just as fate was sealed its self, a bright light shines through glass and a luminous ray is laid upon the Caspian Sea. Looking through a window I see waves. I see a fishermen hunting for food to survive, while competing with Mother Nature. I see the determination of human beings and how they cope with other individuals in the real world. When looking through a window the things that you find is limitless. The world is constantly changing and the view is not always what you want it to be; we must learn to adapt.



Above: San Andres, Colombia
I've always been a bit of a plane geek and one of my favorite things is seeing the world go by from a plane window. So I decided to do a post dedicated to views from plane windows and invited fellow bloggers to contribute submissions. Within hours they started to flood
in, plane views of all kinds featuring a variety of landscapes and climatic conditions. I think I almost peed my pants in excitement

.
Have a look below at some of the interesting contributions.
.
Land Reclamation in Bahrain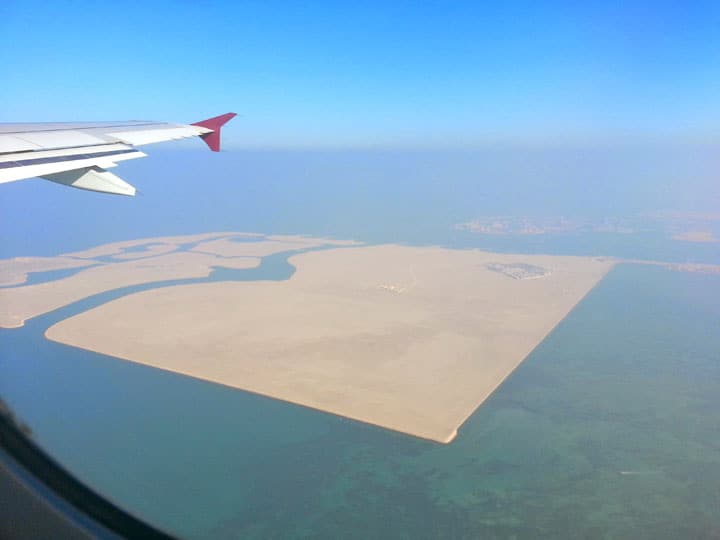 "The big square is reclaimed land and they're building like crazy out there, in the same vein as Dubai" – Hayley from Lovepuffin Travel Blog.
.
.
Golden Gate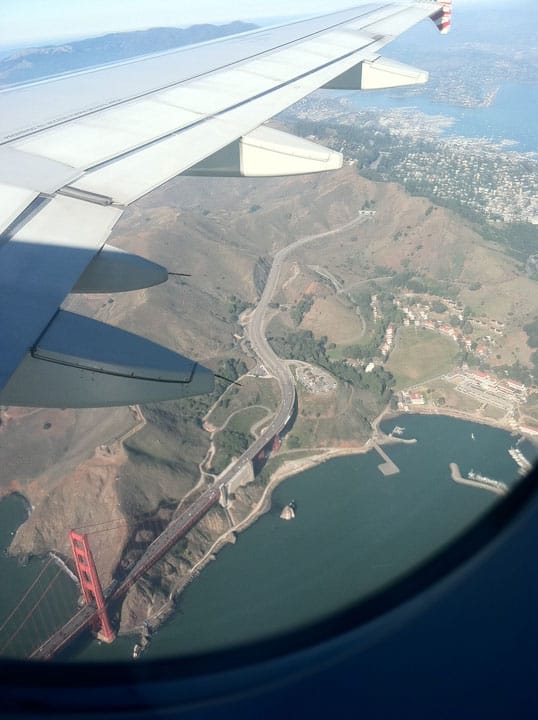 "This lucky shot of the Golden Gate Bridge in San Francisco on a bright, clear day was captured as my Virgin America flight circled around the bay at the beginning of my flight from SFO to Los Angeles LAX" – Carole at Berkeley and Beyond.
.
.
Mt. Rainier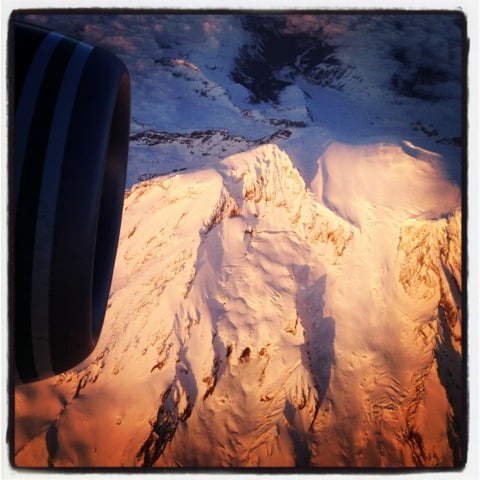 "The photo we're sending is one we took a few weeks ago on an Alaska Airlines flight from Seattle to Phoenix.  It was just heading into sunset at the end of a gorgeous day as we left Seattle, and our pilot flew us directly over Mt. Rainier. We could see down into the crater!!! It was definitely one of the most amazing views we've ever seen from an airplane" – Erin and Jeff from A Week or a Weekend...
.
.

Maldives
.
"The Maldives are one of the most isolated groups of islands in the world. With pristine white sand beaches, incredible coral reefs, and colorful reef fish the Maldives are the ultimate dream beach escape. Getting a birds-eye-view flying over the island and reefs in a sea plane makes you realize just how remote this island nation is" – Jennifer at Jdomb's Travels..
.
Nevada
"This picture has been taken from the Twin Otter Vistaliner plane. The plane is STOL, meaning short take off and landing. It allows slow and stable flights, perfect for viewing above picturesque regions. It was on the flight from Las Vegas to South Rim of Grand Canyon National Park, back in June of 2010. The views over whole flight was amazing. Rivers, desert, canyons. But this just mesmerized me, how small and organized those houses looked!" – Marysia from My Travel Affairs Travel Blog.
.
..
Somewhere between Laos and Cambodia
"This shot was taken from a small propeller plane flying over the Mekong River between Laos and Cambodia. The rays of sun bounced off the propeller blades as it rose above the horizon and lit up the rugged countryside below" – Jules and Christine from Don't Forget to Move.

.
Java, Indonesia
"Klaten, Central Java.  I was flying to get my tattoos hammered-in by headhunters.  The volcano on the right is Mount Merbabu, and the one on the left is Mount Merapi, which erupted in 2010, killing 350 people and sending rocks the size of busses into nearby villages. Crazy!" – Brad at My Wanderlist.
.
Flying into Medellin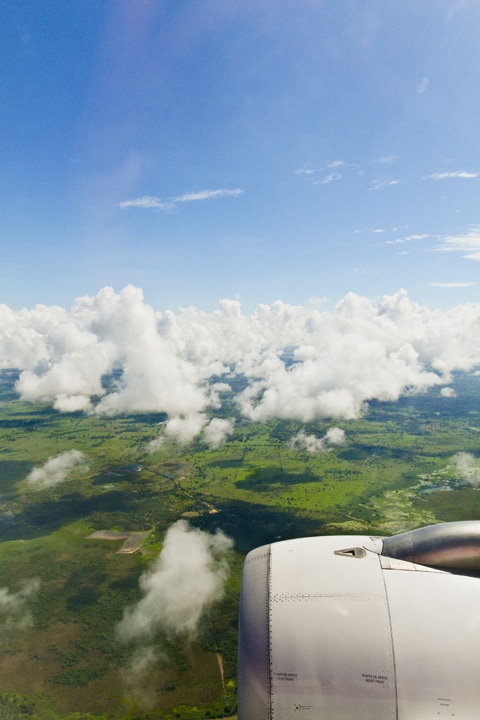 "Coming into Rio Negro, where the Jose Maria Cordova International Airport is located (the international airport that serves Medellin, Colombia). This airport is actually an hour's drive away from Medellin, but has some of the most gorgeous green views coming into an airport that I have experienced" – Dani at Going Nomadic.
.
Greenland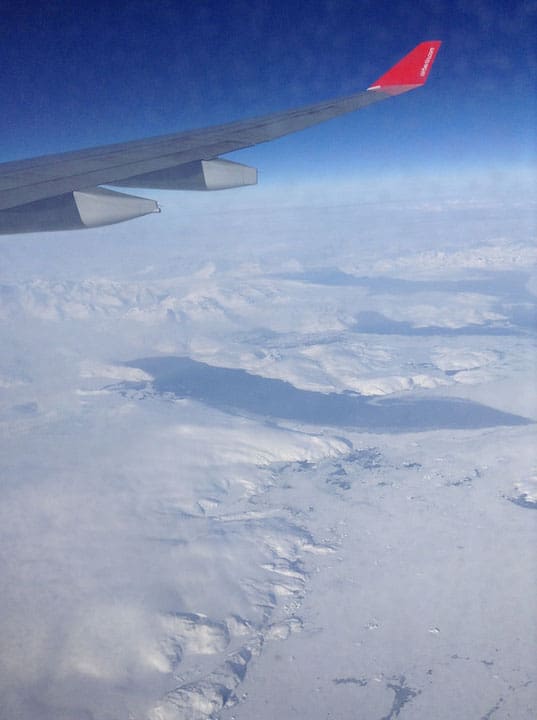 "I was flying home to San Jose, CA from Düsseldorf, Germany on AirBerlin when I took this picture of the ice sheets of Greenland out of the window of the plane" – Chris from Amateur Traveler.
.
.
Flying into Seoul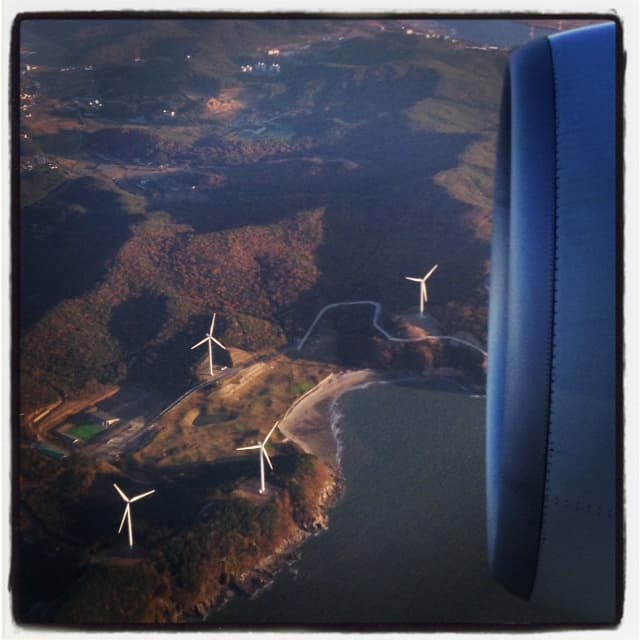 "This was my morning view from my Chicago to Seoul flight on Asiana as we approached ICN – my iPhone did a good job and the wind farm was so cool plus all the small islands along the way. Great way to end a 14 hr flight on my way to Melbourne" – Sue from Philatravelgirl.
.
.
Florida Keys
"An aerial view of the Florida Keys on the way from Miami to San Jose, Costa Rica" – Jodie at The Travel Accessory Store.
.
.
Andes
"We were flying from Santiago de Chile to Buenos Aires on Austral, which is part of Aerolineas Argentinas. This was one of the most important trips of our life. We were working in New York and traveled to Argentina to visit the Patagonia, and had one night in Santiago de Chile on our return. During that trip, we saw so many amazing places that on our last night, we decided that we were going to return to NY, save money, quit our jobs and move for half a year to Buenos Aires to travel through South America, which we actually did 3 years later!" – Silvia from La Trotamundos.
.
.
Ayer's Rock

"I debated looong and hard about dropping the hefty pile of cash to get to Uluru on my 3 week spin around Oz.  Normally a frugal backpack traveler, the nearly a grand price tag for the flight and 2 nts. lodging seemed breathtakingly high (this, after living in Vietnam for two years where $20/day is the norm).  Even as the plane neared the legendary monolith, my first glimspe was a bit of a "meh" and I seriously wondered if I might not regret the travel splurge.  Ah, but once we were on the ground, and I was able to walk in the enchanting shadow of this extraordinary "Rock", trust me – it was all ever so very worth every penny!' – Dyanne at Travelnlass.
.
.
Doha (Qatar)
"As our Qatar Airways flight departed from Doha, Montreal-bound, we were able to observe the impressive contours of the city below. Doha's urban development is most impressive as seen from above, where you can witness how it was built as if it had risen from the sands. It was a fascinating sight, and after visiting the United Arab Emirates, we left with our eyes full of the unbelievably fast architectural sprawl of these great desert cities" – Catherine at The Go Fever.
.
.
San Francisco sunset
"As we flew out of San Francisco, we caught sight of the setting sun and witnessed a glorious golden sunset. As the plane turned on its flight path, we were lucky enough to see both the Golden Gate bridge and the Bay Bridge together over the Bay!" – Trupti at Exploring the Blue Marble.
Marseilles, France
"We frequently fly into Marseilles and LOVE the views- here's the Vieux Port on the left. Circling the turquoise bay, we also had views on the Isles of Frioul (right)" – Anne at Music and Markets.
.
.
Sunset
"The sunset outside my JetBlue window seat.  I was flying back into the USA from Colombia, and this is the sunset that I saw from above the clouds" – Dani at Going Nomadic.
.
Bangkok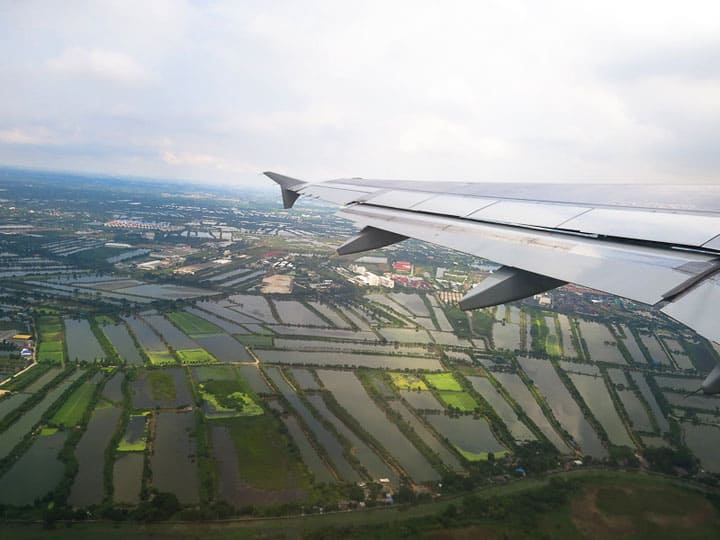 "This photo was taken in June 2013 over Bangkok as we were flying to Koh Samui on Bangkok Airlines. I had just been reunited with my boyfriend after 5 months on the road solo through South America and we were off for a week of relaxation at the beach" –Jennifer at Moi, mes souliers.
.
.
Alps
"This photo of the Alps was taken by Jose when he was coming back home to Spain from Siberia (where he was working offshore)" – Inma and Jose from A World to Travel.
.
Arriving in Helsinki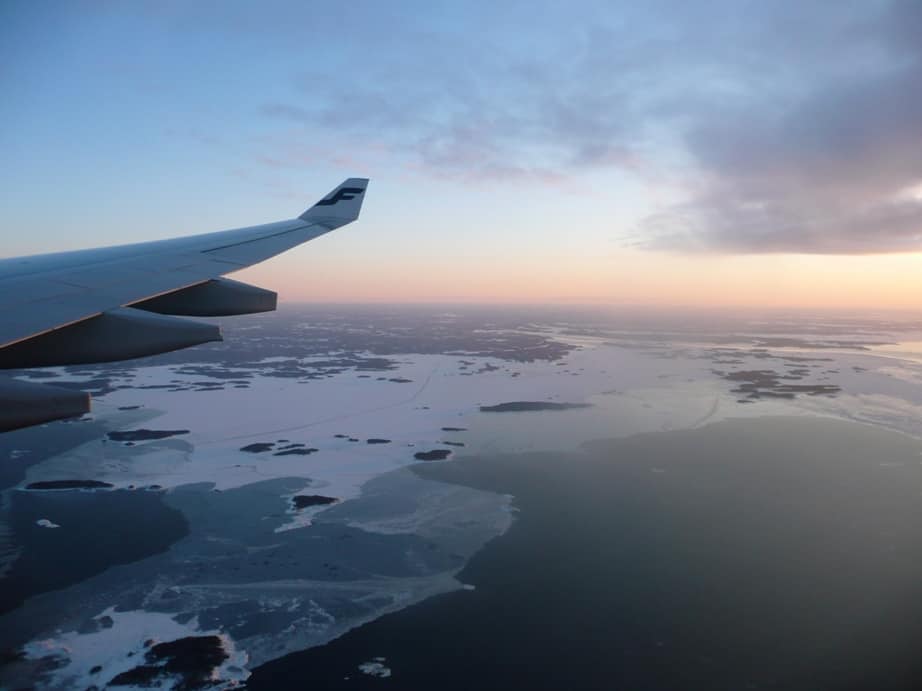 "Last February we were on our way to Koh Samui, Thailand. Dreaming of flip flops and shorts we looked up the cheapest flights – and of course the best option had to be a Finnair flight with a stopover in Helsinki! It was freezing and coming from Austria we were not especially looking forward to more ice and snow. However, Finland knows how to win over its visitors and greeted us with this view – the frozen ice over Helsinki islands!" – Irene & Stefano from Freelancers on the Road.
.
.
Clouds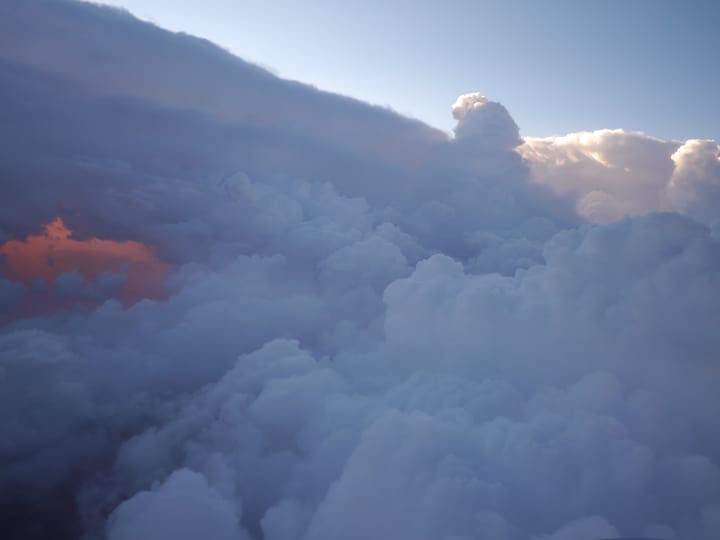 "This photo is from my Southwest Airlines flight from Las Vegas McCarran airport to Burbank airport in LA. The sun was setting but there was also a storm happening. The clouds were the fluffiest I've seen but it looked like the sky was burning underneath" – Arnette from Round the World Girl. 
.
.
Mount Merbabu and Mount Merapi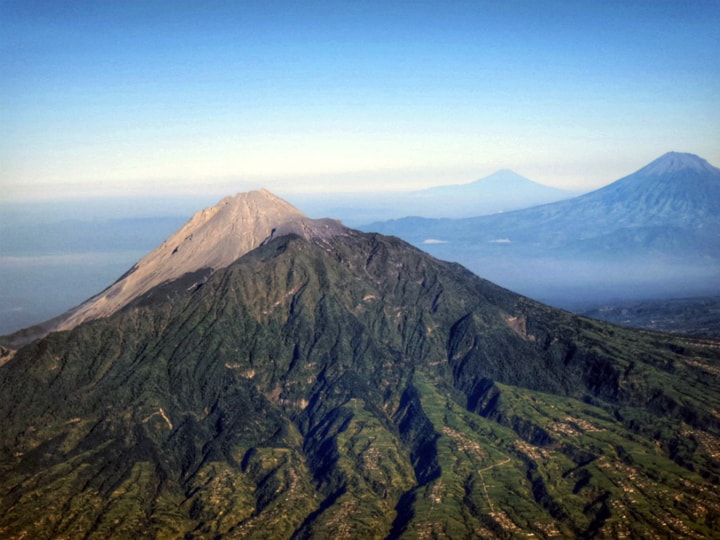 "This is picture of Mount Merbabu with mount Merapi behind it. These two volcanoes are located in Central Java. Mount Merbabu is a dormant volcano while Merapi is an active one (probably the most active volcano in Indonesia). On the right of the photo you can see some more mountains that are located in East Java" – Firsta at Discover your Indonesia.
.
.
Maldives (again)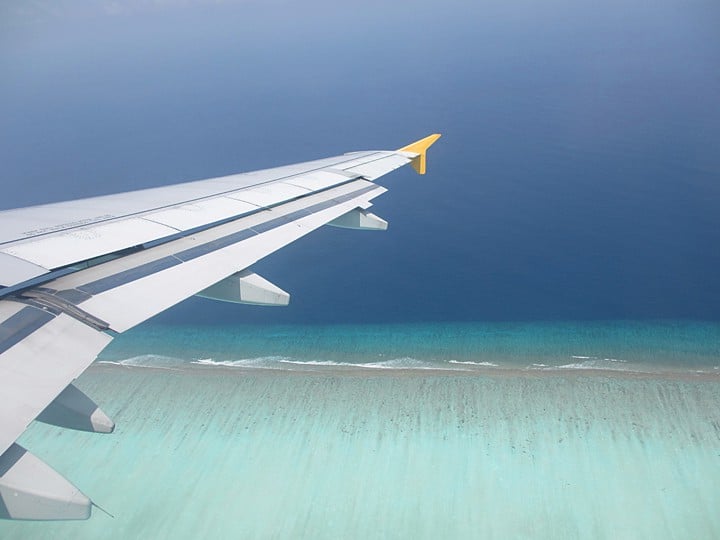 "My girlfriend and I were off on a (cheap) romantic trip to the Maldives, which turned out to be quite expensive. We flew from Singapore on Tigerair. It was pretty soon after the Malaysian Airlines plane disappeared, and on the flight home they announced that they had to turn back to Male because of Sri Lankan airspace issues, so it was a bit scary until we landed 15 minutes later. It gave us another chance to see the islands from the air though!" – Jon at Jon is Travelling.
 New York at night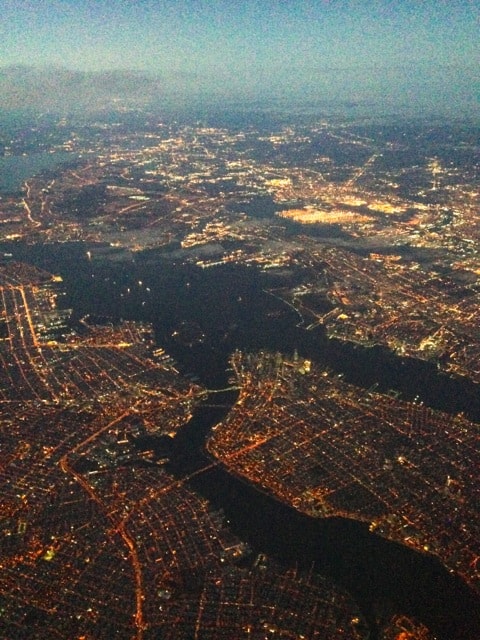 'This is New York Harbor when I arrived on a red-eye flight at 6am. A very interesting sight!' – Daniel at Frayed Passport.
.
.
Himalayas
'I just returned from the Mount Everest Base Camp Trek, this trek includes a return flight from Kathmandu to the Tenzing-Hillary Airport in Lukla also known as the most dangerous airport in the world. The flight only takes about 30 minutes but the views over the Himalaya are absolutely stunning" – Freya at Holiday Nomad.
.
.
Thanks to everyone for their photos and stories. I love this post, it was my first collaborative project and ended up being a great way to get to know some fellow bloggers. I'd like to do it again sometime in the 2nd half of the year – please keep me in mind if you're lucky enough to get a great shot from a plane window!
.
Related:Plane Travel and the real 'Dick move' (includes more window photos)
.
——————————————————————————————————————————————————————————————-
If you haven't subscribed yet and want to get our posts and newsletters sent to your email, just insert your email address below: